Recently a friend of mine had termites in her home and it was a huge uproar in the neighborhood. For those that may not know, termites are insects who live below the ground in colonies and like to eat trees, wood, and dead plants. They also eat products made from trees such as cardboard, paper backing on sheetrock and paper. Any homeowner knows that having an infestation of these little bugs could be a huge disaster and cost thousands of dollars in property damage. If you take the correct measures to work against them and prevent them from coming back in the future, this is key to making sure your home is safe!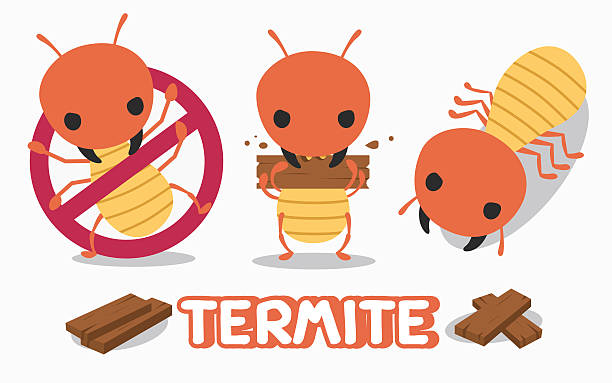 [Credit]
Below are three tips that can help you prevent termites if they have started to burrow in and around your home. You want to get this taken care of a lot sooner than later because it may not only help you but also your neighbors as well. 
Create A Barrier
Using a liquid treatment can help kill the termites in the ground but it will also help protect your home from any termites that may be trying to burrow into it. Creating this trench around the perimeter of your home and spray it with a termiticide in the trench to create this natural barrier is key. Read the instructions carefully to keep you, your family and the environment safe and using this treatment is a lot easier to perform if you are building a new home. 
Hire A Professional
Be picky about who you choose because there are several companies that claim to be the best but only a few really are.  If you live in the New Jersey area, a professional and reliable company to look for is called Surf Termite and Pest Control. At Surf Termite and Pest Control, they want the experience and focus to be different. They apply their experience to determine exactly what you need without trying to upset you as the customer. The staff is guaranteed and full licensed tech to your home during each service visit along with any emergency service calls that are needed. As a family-owned company and operated company with more than 30 years of experience and effective elimination of all pests, they want to give a great experience to the Jersey Shore town. I always appreciate a family-owned store because I feel as if they give one of the great customer services! 
Owned and operated by Steve Wrzesnewski who personally knows and creates a plan for every single customer that they interact with and satisfaction are guaranteed. He has trained and worked with some of the big-name pest control companies. The reason he started his company was because he found it frustrated with an industry that was more focused on salesmanship and balance sheets and not delivering quality and appropriate services for the customer needs. Kim Mancini joined Surf Termite and Pest Control as an Office Administrator in 2019. She brings a piece of industry knowledge and a passion for customer service. She is familiar with every customer's unique needs and preferences and when you call the office she assured you get a friendly voice, a listening ear which I'm forever grateful for when it comes to this part of working with companies. 
Using professionals like this is not only a great idea to get a second opinion about the issue but they also come out annually to help you out. If you live in a well-populated area with a lot of trees, this is a key thing to have done because this will happen on occasion due to where you live. Make sure you ask for at least a two-year guarantee when working with these companies. This allows you to have at least two seasons to make sure you don't have any termites and most of the chemicals do work for more than five years. It's a win-win deal! 
Look Around Yourself
Do you know what to look for when it comes to termites? Look for small holes in the wood, sagging doors or floors, insect wings or small shelter tubes are more obvious signs that are infestations of termites. If you don't notice any of these it doesn't necessarily mean that termites or the conditions to invite them in later are there. Be sure to check leaky roofs, faucets or gutters. You also want to trim any bushes, shrubs for dense greenery away from the foundation of your home. Move mulch away from your foundation as well as this is a good place for your quick little friends to make their home.
I'm sure there are many other tips for termite prevention ideas that haven't been mentioned so I'd love to hear more about your ideas in the comments below. If you do have these issues or are concerned, my biggest tip would be to call a professional like Surf Termite and Pest Control to help you and your family have peace of mind when you sleep.